ALL ORDERS OF NON STOCK SPECIES WITH A GOODS VALUE OF UNDER £150 WILL BE SUBJECT TO A SURCHARGE OF £18
FOR PRICES AND AVAILABILITY PLEASE
CONTACT US
SEE MORE WALNUT SHEETS IN OUR
DISCOUNTED & CLEARANCE SALE SECTION
-----------------------------------------------------------------------------
European Walnut Crown Cut Wood Veneer
WEC/001
£ per sheet + P&P
Sheet size: ins wide x ins long
0 In Stock
-----------------------------------------------------------------------------
European Walnut Quarter Cut Wood Veneer
/001
£ per sheet + P&P
Nominal sheet size: ins wide x ins long sq ft
Sheets taper from ins - ins over their length
Available to order only
Non stock item surcharges apply
contact us
-----------------------------------------------------------------------------
European Walnut Curl Wood Veneer
/001
£ per sheet + P&P
Nominal sheet size: ins wide x ins long sq ft
Sheets taper from ins - ins over their length
Available to order only
Non stock item surcharges apply
contact us
-----------------------------------------------------------------------------
European Walnut Burr Wood Veneer
/001
£ per sheet + P&P
Nominal sheet size: ins wide x ins long sq ft
Sheets taper from ins - ins over their length
Available to order only
Non stock item surcharges apply
contact us
-----------------------------------------------------------------------------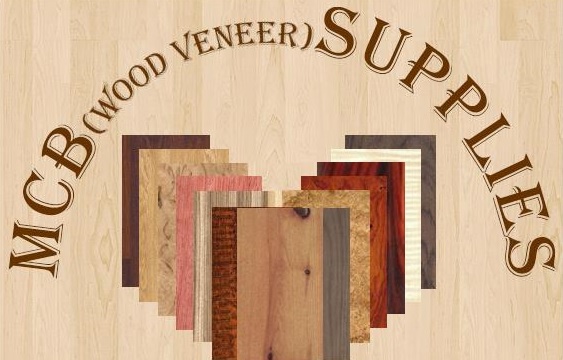 Raw sheet veneer is 0.6mm thick unless otherwise specified
ALL BUTTON PRICES ON THIS SITE ONLY INCLUDE P&P WITHIN THE UK.
CUSTOMERS OUTSIDE THE UK USING BUTTONS WILL RECEIVE AN E-MAIL WITH PAYMENT OPTIONS FOR ADDITIONAL POSTAGE COSTS
FOR REDUCED POSTAGE ON MULITIPLE PURCHASES PLEASE INPUT THE ITEM CODE / QUANTITY REQUIRED ON THE FORM
EUROPEAN WALNUT WOOD VENEER
Also known as: English Walnut, French, Italian, Circassian, Persian Walnut
Botanical Name: Juglans regia
Origin: Europe and Western Asia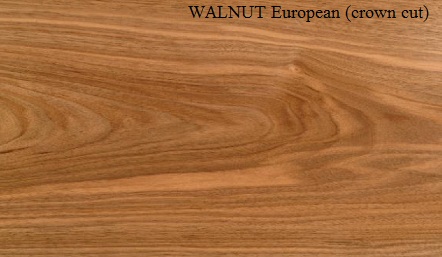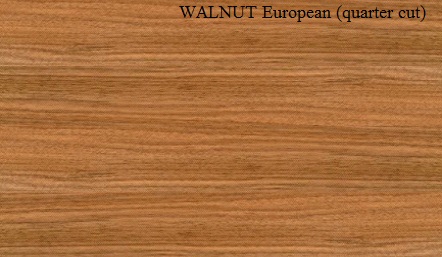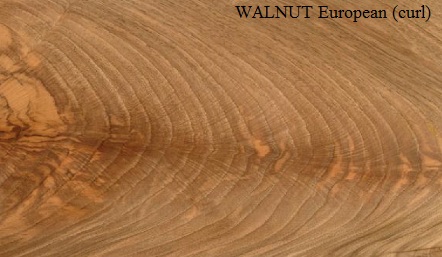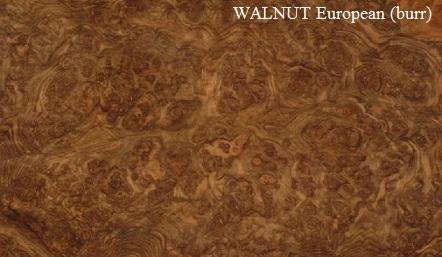 Available crown or quarter cut and as a constructional veneer this is arguably the finest member of the
Walnut family and can vary greatly in colour and appearance. An attractive figure is often present
at the centre of crown cut sheets and the colour can range from a light greyish brown to a dark brown.
Both European Walnut Burr and European Walnut Curl are much in demand for fine high quality furniture-making.